Hey guys! Today I'm gonna introduce two cost-effective RDAs to you. The prices are both between $20 and $30, not very expensive. They are both available in the
e-cigarette online shop
, just buy one if you like.
1. Hugsvape Ring Lord RDA
The
Hugsvape Ring Lord Atomizer
is 27mm in diameter. Like most other RDAs, it's manufactured of stainless steel and glass. But it also has something unique, as the name suggests, the shape of its airflow tubes looks just like a ring. Thanks to the tornado style airflow system, it'll bring the flavor and vapor production you've never experienced. Moreover, it comes with the single coil configuration, which makes coil building much easier. And the spit-back proof design will keep you away from the trouble of leaking. It is also compatible with squonk mods, so you can match it with squonk mods expediently. 2 colors are optional now.
[Parameters]
Size: 27*36.5 mm
Material: Stainless steel + Glass
Color: SS, Gun mental
Airflow system: Tornado style airflow system
510 pin and Squonk pin
Spit-Back proof design
2. VOOPOO Pericles RDA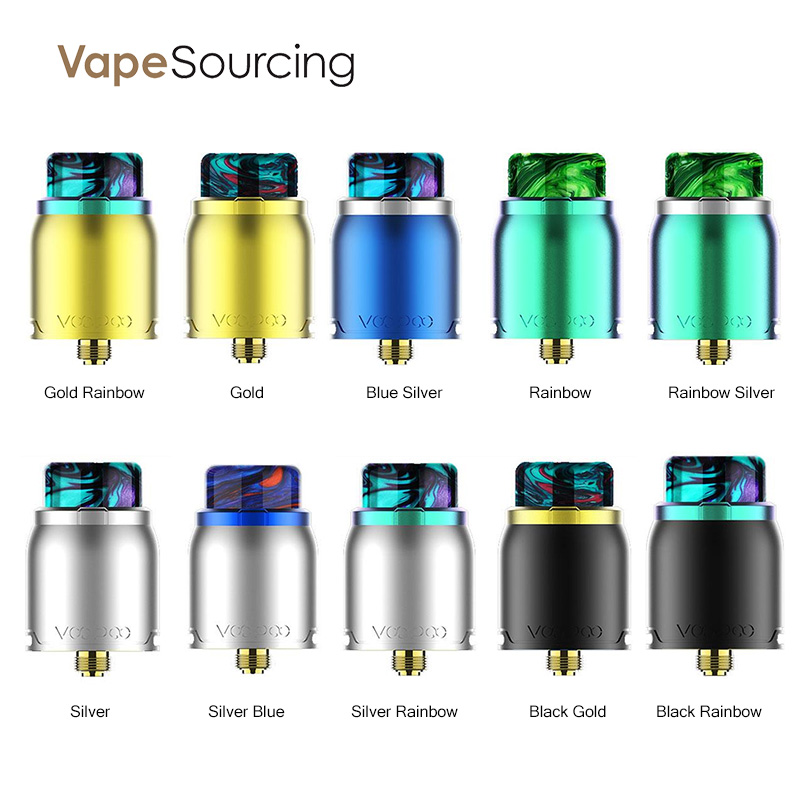 The
RDA VOOPOO Pericles
is a dynamic vape dripper integrating a two-post build deck with clamp-style mechanism and Kennedy-inspired airflow design perfectly catering to the modern building enthusiasts. The Pericles RDA measures 24.2mm in diameter, elegantly offered in a spectrum of colorful Stainless Steel designs with unique resin-dyed 810 widebore drip tips. The internal build deck is gold-plated and equipped with a two-post build deck in which coil leads are placed onto the terminal shelfs and secured via top-mounted flathead screws. Airflow enters the structure through two external wide airslots, feeding into the four internal airtubes to deliver air channels directly onto the coils.
[Parameters]
24.2mm Diameter
6mm Deep Juice Well
Superior Stainless Steel Construction
10mm 810 Resin Widebore Drip Tip
510 Drip Tip Adapter
Squonk BF 510 Pin
Gold Plated 510 Connection